Purpose of PUNCH Flow Tracking Effort
We require flows maps for answering PUNCH science questions.
The PUNCH proposal already prescribed tested, published techniques for generating quantitative solar wind speed maps: speed at 4 altitudes between 5 and 80 Rsun at a 6 hour cadence. This is what has to be delivered by the mission to meet mission requirements.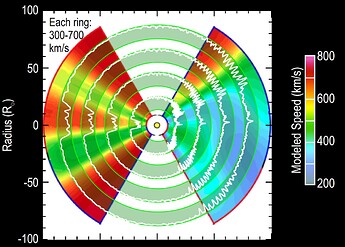 Image caption: PUNCH is required to produce speed measurements at four altitudes, sampled from 5 to 80 solar radii. The PUNCH flow tracking effort is working to exceed these requirements and produce measurements that will help the scientific community address even more questions.
However, we know that PUNCH is capable of much better measurements. The purpose of the flow mapping workshops is a) to do the best we can (even better than requirement), and b) to find synergies in techniques across Heliophysics.
PUNCH Flow Tracking Team Objectives
Understand the various methods and characterize their performance on different fronts. The hope is that the methods will be capable of:

Both small and large-scale flows
Full range of altitudes observable by PUNCH
Both inward and outward flows
Non-radial and super-radial flows
3D measurements from polarization

Work on adapting these methods in preparation for use on PUNCH data.
Optimize measurement method for model interpretation
Team Members
The PUNCH Flow Tracking effort is hosted by the PUNCH Working Groups, with important contributions from scientists in the research community:
Valmir Moraes Filho (Catholic University of America)
Vadim Uritsky (Catholic University of America)
Meetings and Workshops
Informal inaugural meeting August 2020
First Workshop: November 11-12, 2020 (Link)
Second Workshop: July 2021? (Link)
9 August 2021 Teleconference
Special session and discussion at TESS: August 8-11, 2022 (link)
Breakout during PUNCH 3 August 12, 2022
Third Flow Tracking Workshop: June 1, 2023
Flow Tracking Team meeting: July 5, 2023
Presentations and Discussions during the PUNCH 4 Meeting: July 6-7, 2023
Upcoming Activities:
TBD
Community Efforts
Team members have made test data to track and compare the results of different flow tracking methods. These standardized data sets are available to anyone to download and use. Contact the organizers of the flow tracking challenges to submit the results that you have.
CME Flow Tracking Challenge:

Solar Wind Flow Tracking Challenge: Link